Easy Christmas Cookies: Date Pinwheel Cookie. This Date Pinwheel Cookie recipe is taken directly from the Better Homes and Gardens Cookbook. It does take a bit of time and effort, especially if you buy dates with pits in them, since you will have to pit them yourself. I was able to get a two pound package of organic dates with pits for around $10 at Costco. This was cheaper than the regular grocery stores, and I was able to make four batches. Each batch doesn't make a lot of cookies for the amount of time and effort one puts into them. You will see my comments at the end of the directions regarding the amount. By making four batches at once using with four different saucepans at once for the filling, and then making four different batches of dough, it was well worth it for me. This is still an easy cookie to make, it will just a take a bit of time.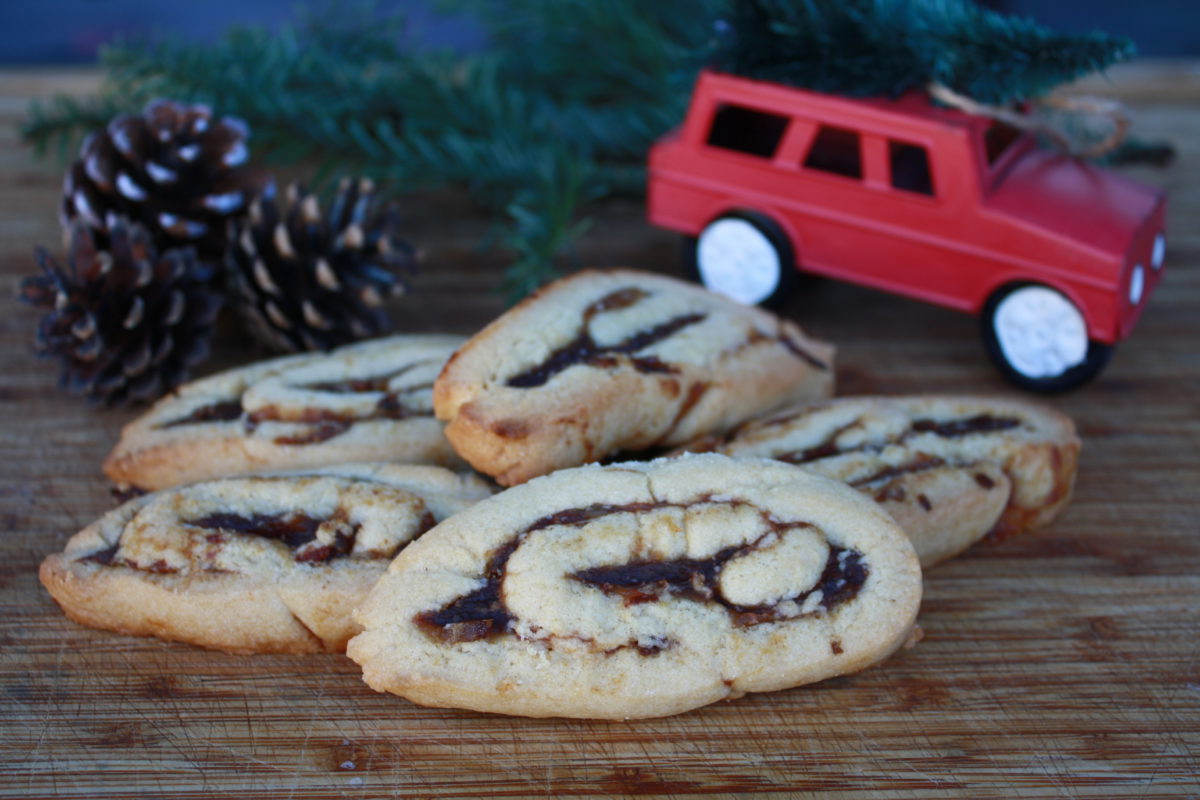 Ingredients
1 8 ounce package (1-1/3 cups) pitted whole dates
½ cup water
⅓ cup sugar
2 tablespoons lemon juice
½ teaspoon vanilla
½ cup butter or margarine
½ cup shortening
3 cups all-purpose flour
½ cup sugar
½ cup packed brown sugar
1 egg
3 tablespoons milk
1 teaspoon vanilla
½ teaspoon baking soda
¼ teaspoon salt
Directions
Step 1 Snip pitted whole dates. Place dates in a saucepan. Stir in water and 1/3 cup sugar. Bring to boiling, then reduce heat. Cook and stir about 2 minutes or until thickened. Then stir in lemon juice and 1/2 teaspoon vanilla. Set the filling aside to cool.
Step 2 Beat butter or margarine and shortening with an electric mixer about 30 seconds or until softened. Add about half of the flour. Then add the 1/2 cup sugar, the brown sugar, egg, milk, 1 teaspoon vanilla, baking soda, and salt. Beat until thoroughly combined, scraping the sides of the bowl occasionally. Beat or stir in the remaining flour. Cover and chill about 1 hour or until easy to handle.
Step 3 To shape, divide the dough in half. Place each half of the dough between 2 sheets of parchment or waxed paper. Using a rolling pin, roll each half into a 12×10-inch rectangle. Remove top sheets of parchment or waxed paper.
Step 4 Spread date mixture over each half of the dough. From a long side, roll up each half into a spiral, removing bottom sheet of paper as you roll. Moisten and pinch edges to seal each roll. Wrap each in parchment or waxed paper or plastic wrap. Chill for 4 to 48 hours.
Step 5 Grease a cookie sheet; set aside. Cut the dough into 1/4-inch-thick slices. Place slices 2 inches apart on the prepared cookie sheet. Bake in a 375 degree F oven for 10 to 12 minutes or until done. Remove cookies from cookie sheet and cool on a wire rack. Makes about 84 cookies.
(It says 84 cookies.. hmm. I like my cookies an bit more thick and soft, so I skipped the chilling for 4 to 48 hours step and cut 1/4 inch (ish) slices. Warning, this also made the cookie less round and more biscotti shaped, but again, I liked it better that way.)